I'm sorry for the lack of updates, guys, I really am. But I do have very good
excuses
reasons why I haven't been posting (in no particular order):
1) College apps
2) School
a) Econ homework
b) AP English
Hamlet
(and now
A Prayer for Owen Meany)
to read (both of which are amazing)
c) Other altos not singing in Choir to complain about
d) Journalism articles to write (3)
e) Mock Trial to prepare for in Law and Society
f) AP Stats homework+notes+tests and quizzes
3) Rainy weather
4) Repetitive outfits
5) Restriction of camera usage
Anyway, the point of this post: even though I haven't been posting much of my style, I still have time to admire others'. Without further adieu, here are a few pieces I'd love to add to my wardrobe.
First up, some super amazing pieces from the shop
Popomomo
--short for Post-postmodernism movement. Sophisticated and intelligent-sounding already, right? Even better, all of their clothing is made in LA of sustainable fabrics. I fell for the gorgeous and intriguing prints in great fabrics such as silk and organic cotton, combined with the classic or classic-with-a-twist silhouettes. (The sale prices didn't hurt, either.)
Those pieces are definitely difficult to beat, but this dress is pretty gorgeous as well: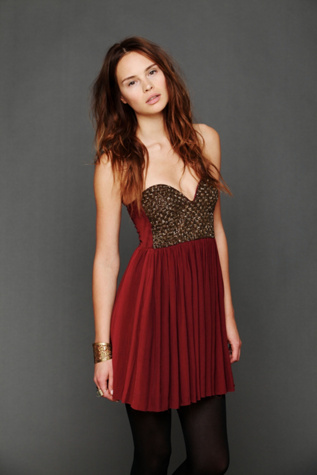 Christmas and my birthday (New Year's) are coming up, but for now, these are all out of my price range. :( A girl can dream, though! Sigh...